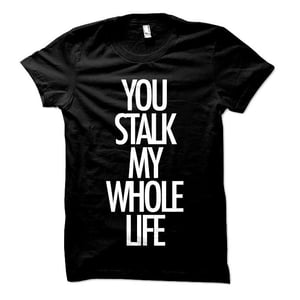 $

29.99
"You Stalk My Whole Life"
Black Jersey Cotton T-shirt featuring the famous quote by Pauly D. on MTV's Jersey Shore.
This design is printed on American Apparel Jersey, 100% superfine cotton Lighter weight premium T with very soft texture. Double needle hems. Sweat shop free, Made in the USA.
Men's Tees
Sizes: S, M, L, XL, XXL
Women's Tees.
Sizes: S, M, L, XL, XXL
1-2 week shipping
U.S. Shipping Only.